AID10 Remote Alarm Indicator
AID10 Remote Alarm Indicator
● Remote monitoring
● LED indicators: On, Insulation, Overload, Overtemp
● Mute button
● Test button
● Auxiliary power supply: DC24V
● RS485(MODBUS-RTU)

product detail
PARAMETER
ISOLATION POWER CABINET
General
AID series alarm and display device is a remote display and sound and light alarm device by using advanced fieldbus communications technology. The device can be installed on the operating room or ICU, the medical staff can easily know the status of medical isolated power systems, and the type of fault when the system fails.
Function
- The insulation resistance alarm value, load current alarm value and transformer temperature alarm value of the system can be set remotely.
- When the system appears insulation fault, overload, transformer temperature over limit and wiring fault, alarm and display instrument gives out the corresponding sound and light alarm, and has the function of eliminating sound alarm.
- Using advanced fieldbus technology, the remote monitoring function can be realized by real-time data interaction with the insulation monitor.
- It can monitor one set of AIM-M100 insulation monitor and be used for installation by embedding into wall.
- It can be applied to monitor operating room or ICU only using single set of isolated power.
Wiring & Installation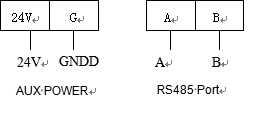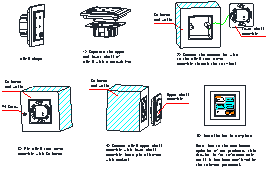 Dimension
Front view

Side view
Product Selection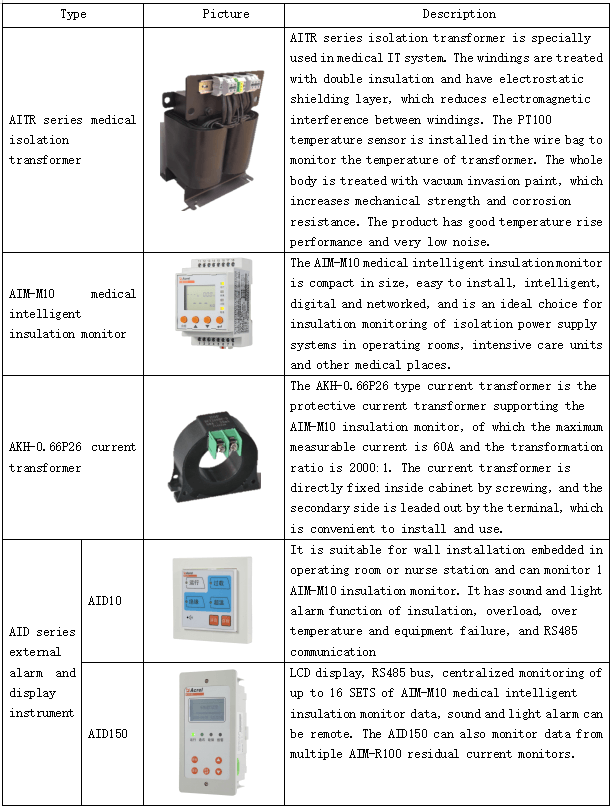 Structure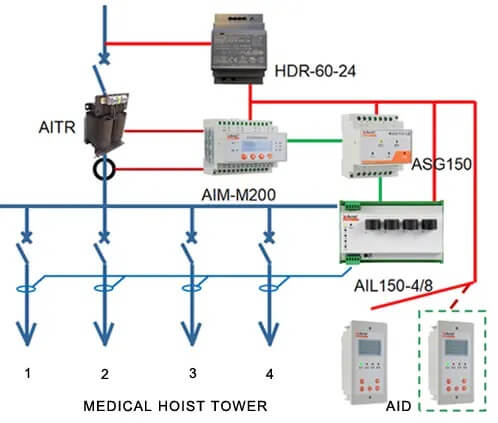 LED Indicator Instructions
| | |
| --- | --- |
| Indicator light | Instructions |
| On | When the instrument operation is normal, the indicator flashes, with the flashing frequency of about one time per second. |
| Insulation | When the insulation resistance exceeds the alarm value, the indicator flashes to alarm. |
| Overload | When the load current exceeds the rated current of the transformer, the indicator flashes to alarm. |
| Overtemp | When transformer temperature exceeds alarm value, indicator flashes to alarm. |
Button Function Description
| | |
| --- | --- |
| Button | Function Description |
| Mute | When there is alarm, press this button to eliminate the alarm sound. |
| Test | Used to start the self-test function of monitor. |
Common Problem
For common problems, the causes can be determined and the faults can be eliminated according to the phenomenon of each instrument and the fault types:
Fault phenomenon

Possible Causes and Troubleshooting

Abnormal communication

1) The address of AIM-M10 is not set to default 1, or BUAD is not set to default 9600, so it should be set to default value.

2) The communication line with AIM-M10 is not well connected. Check the communication line and confirm that the matching resistance is well connected.
Parameter Type

AID10

AID150

Auxiliary power supply

Voltage

DC 24V

Consumption

< 0.6W

Insulation alarming range

——

14A, 18A, 22A, 28A, 35A, 45A

Temperature alarm setting range

——

0~+200℃

Number of monitored systems

1

16

Alarm method

Sound-light alarm

Alarm type

Insulation failure, overload, overheat, equipment failure

Communication mode

RS485, MODBUS-RTU

Display mode

LED display

128×64 LCD display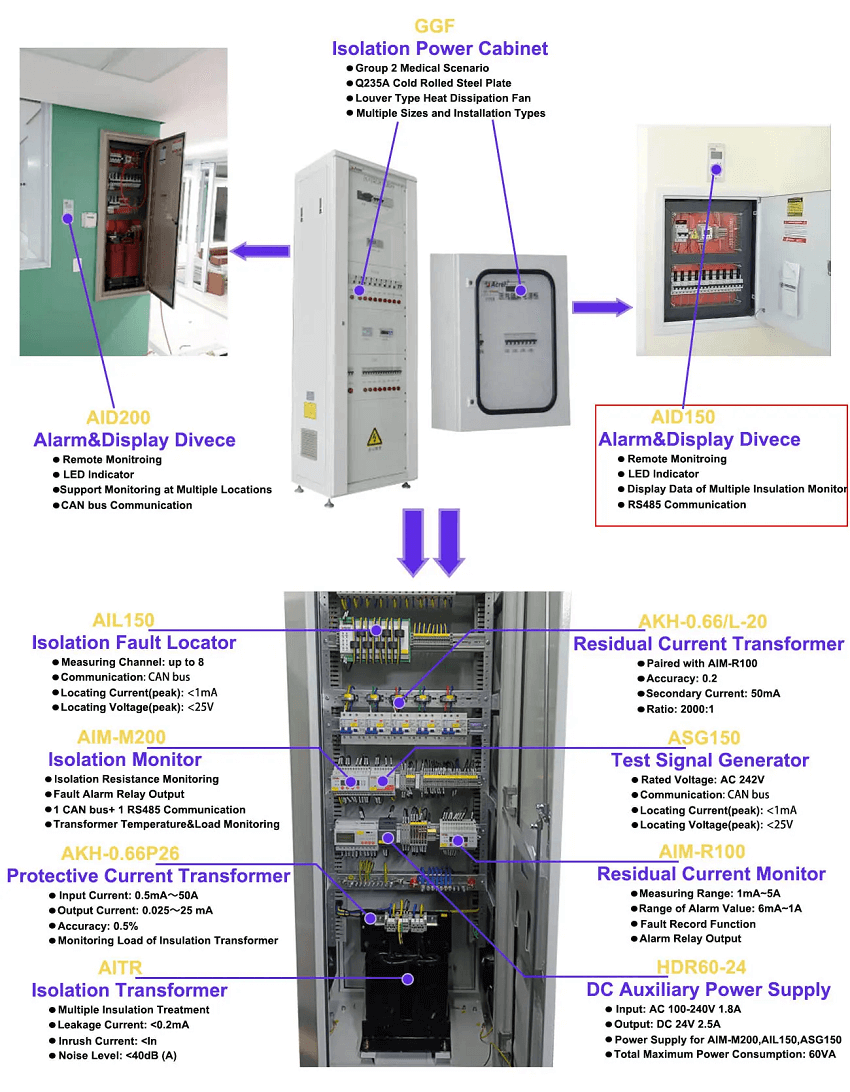 Feedback form contact with us